An Easier Way for Cannabis Retailers to Purchase Wholesale Cannabis
Leaf Trade's cannabis wholesale marketplace gets cannabis retailers instant access to some of the best wholesalers in your market. Our easy-to-use platform streamlines the entire whole purchasing process.
Book a Demo
Leaf Trade Transforms Cannabis Wholesale Buying
Optimize the Ordering Process
Ditch messy spreadsheets, emails, and text messages to sellers and place direct orders through the Leaf Trade platform. Buy products for all your locations from the best wholesalers in your market. Track your orders from start to finish with transparency on status, approvals, and delivery.
Sign Up for Free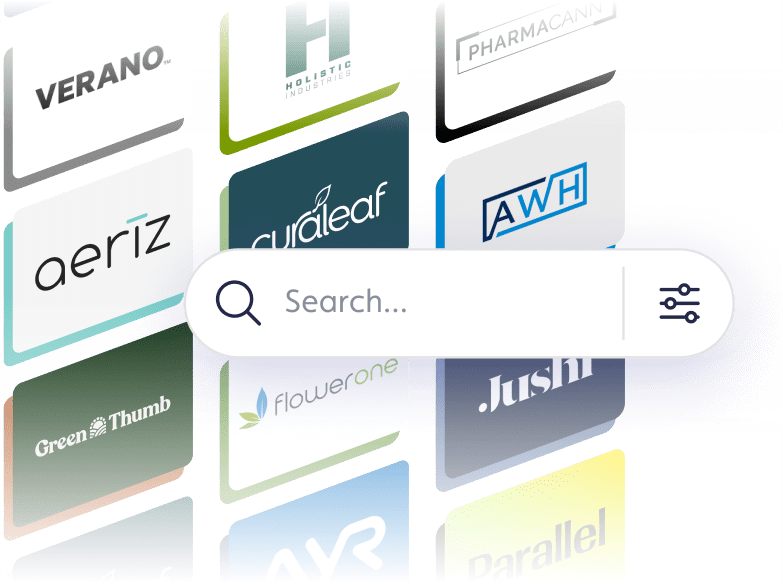 Everything You Need, In One Place
Get access to the product information you need, COAs, training materials, and marketing assets for your wholesale purchases. Leaf Trade provides cannabis retailers with access to actual inventory so you can accurately place orders for the products you need. All products purchased through Leaf Trade are tracked to meet necessary compliance standards.
Sign Up for Free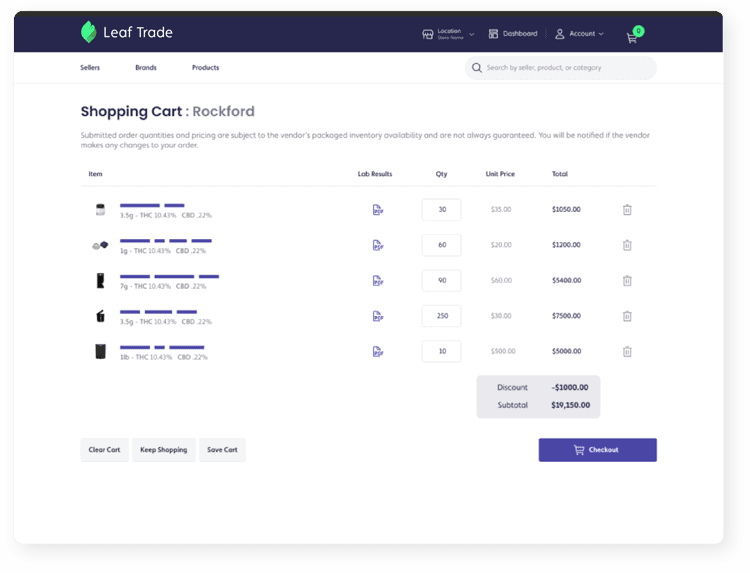 Access to Top Wholesalers in Your Market
Leaf Trade is an easy-to-use cannabis wholesale marketplace for cannabis retailers to manage and purchase inventory. Once on our platform, you can easily order inventory, that's updated in real-time, to stock your dispensary. Our platform is designed to automatically display all product inventory to every user, regardless of your connections or experience.
Sign Up for Free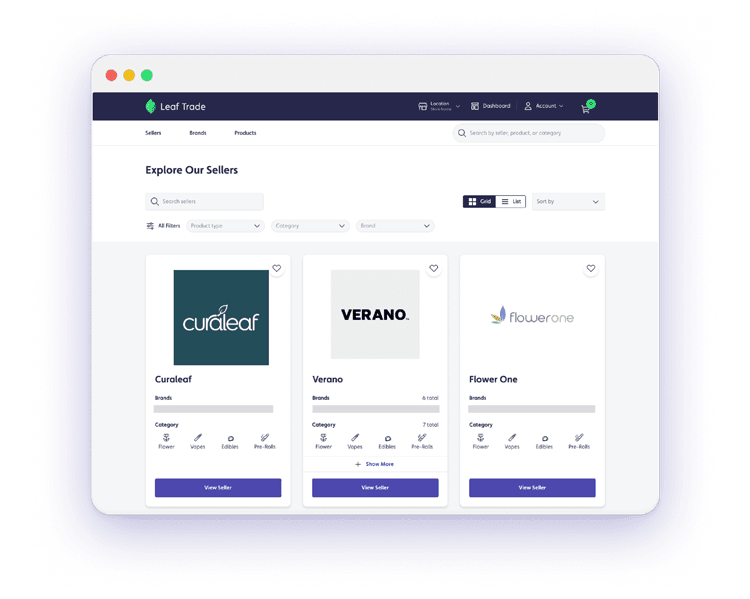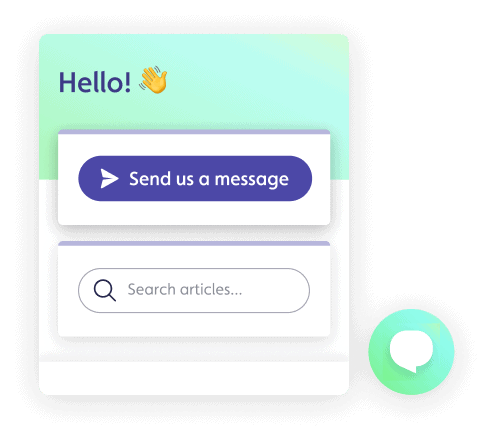 Stay Connected
Discover and develop relationships with cultivators using in-platform messaging. Communicate directly on order questions, discounts, sample requests, product returns, or credits. In-platform messaging can also be used to communicate with your internal team across locations.
Enable Retail Cannabis Team to Do Their Best Work
Leaf Trade offers several User Permissions and Notification settings to help your retail cannabis team work efficiently. These settings can be configured by role to provide your cannabis retail team with access to the areas they need on the platform and notify them directly of tasks related to their roles and responsibilities.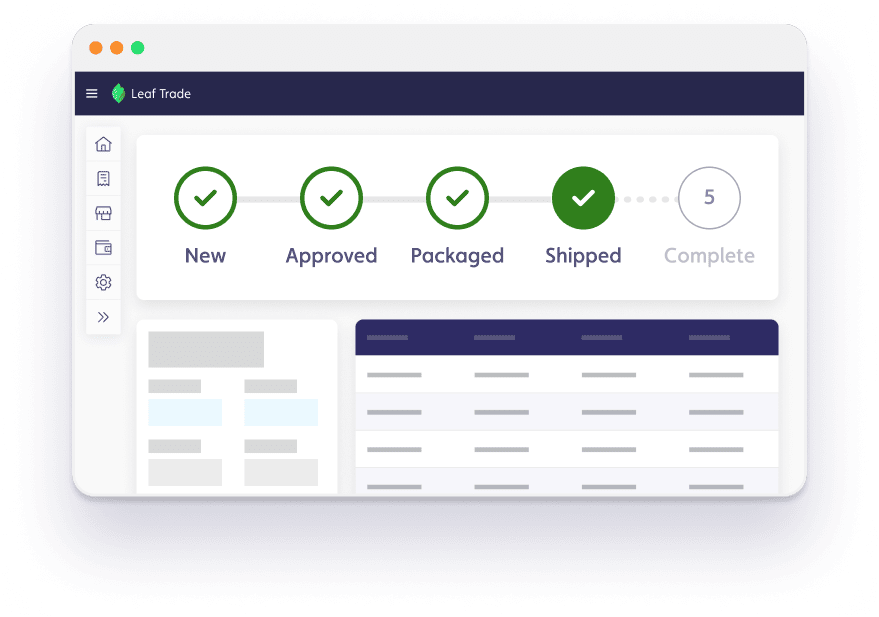 Accounting & Payments Made Easier
It's Quick, Easy, and Free to Get Set Up!
Cannabis Retail buyers can sign-up by clicking "Sign Up" below. You'll need to provide your User Info, Dispensary, and Dispensary locations.
Once your account is up and running you can immediately start buying from top cultivators in your market.
Sign Up
Leaf Trade by the Numbers
Total brands listing on Leaf Trade
Markets Leaf Trade is currently in
In annual cannabis orders on Leaf Trade
In unique product placement YoY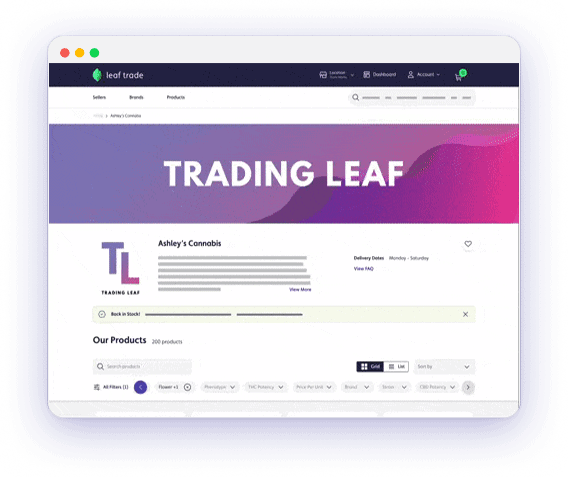 Leaf Trade Simplifies the Cannabis Wholesale Process, from Seed to Sale
Leaf Trade is a trusted, fully integrated, and SOC-compliant B2B marketplace for the wholesale cannabis industry. Join Leaf Trade and discover how we help cultivators, distributors, and retailers streamline their cannabis business.
Get Started