Cannabis Wholesale Marketplace
Connecting Licensed Cultivators & Dispensaries
Leaf Trade's wholesale cannabis marketplace provides a single source of truth to house accurate product data, making it easier to manage inventory for purchasing and fulfillment. Once signed up, dispensaries immediately gain access to our network of cultivators and distributors to being purchasing.
Explore the View from the Cultivator Side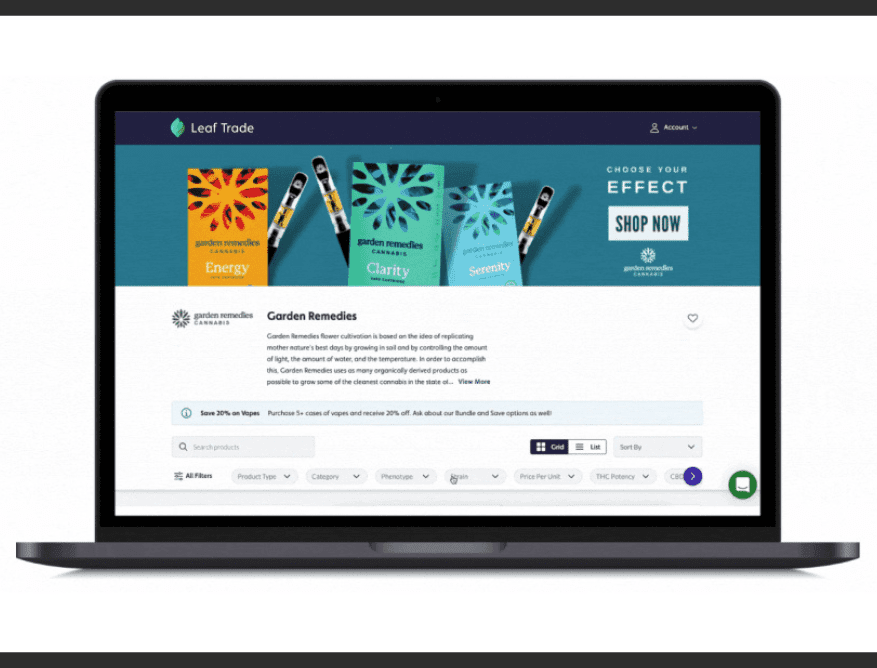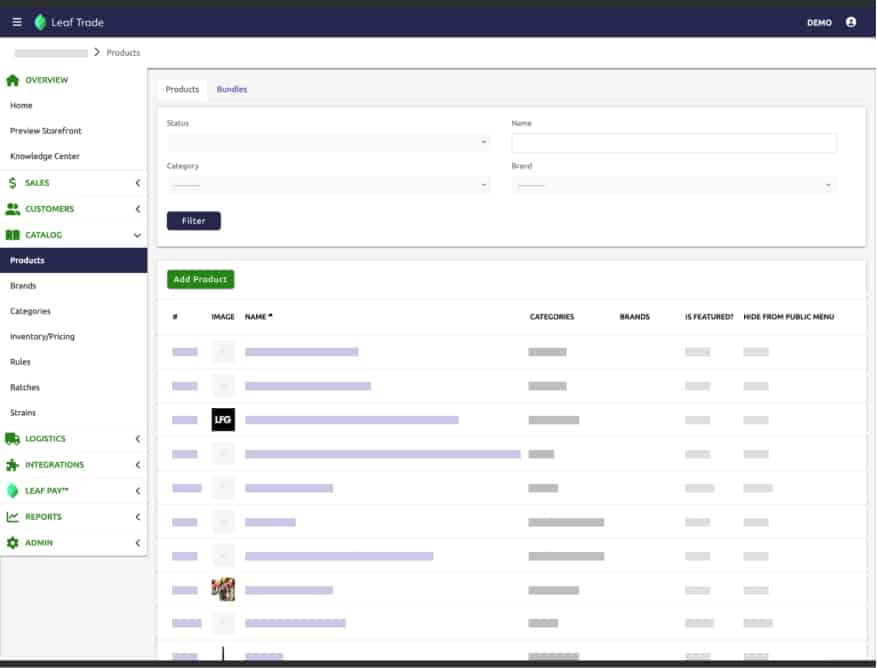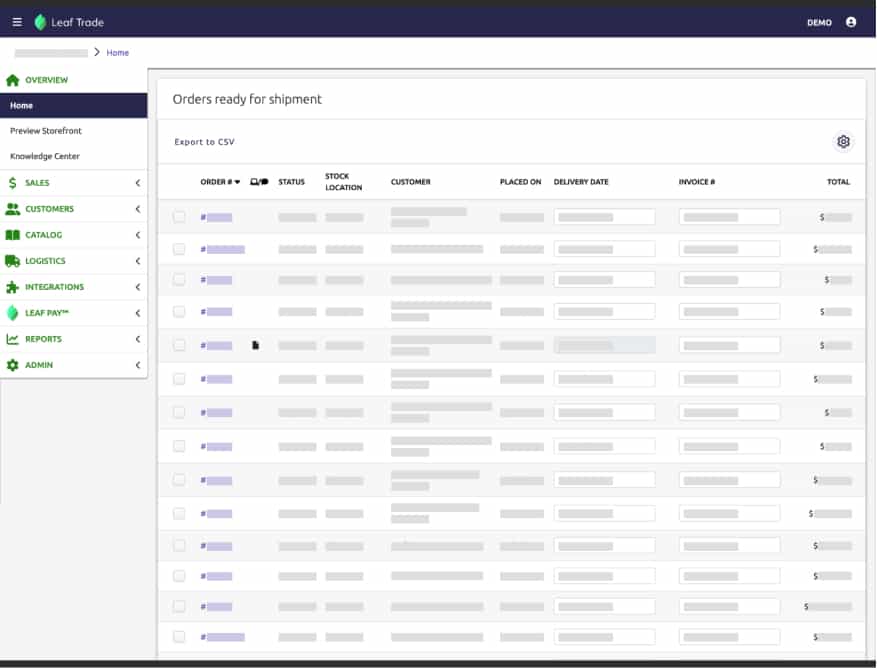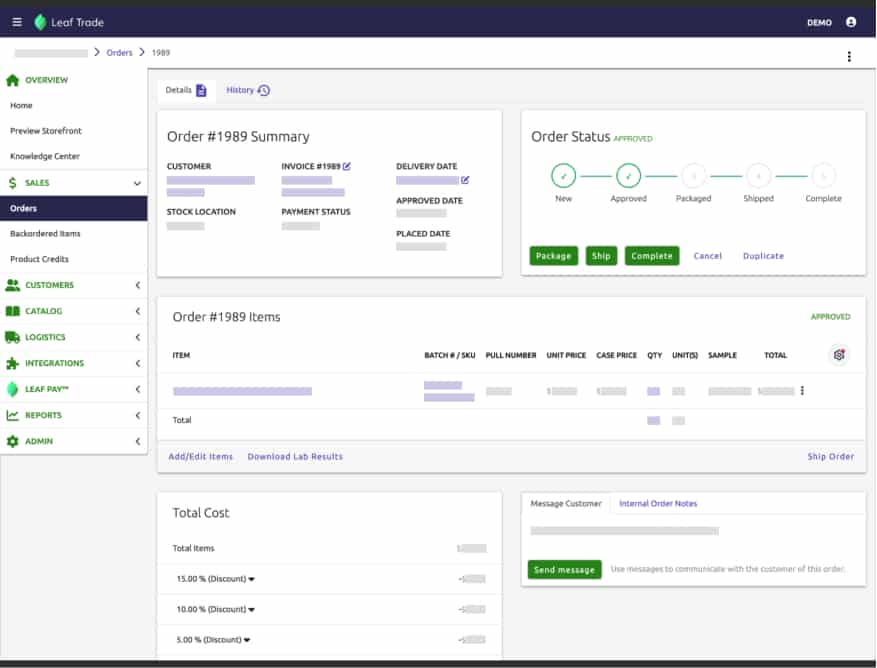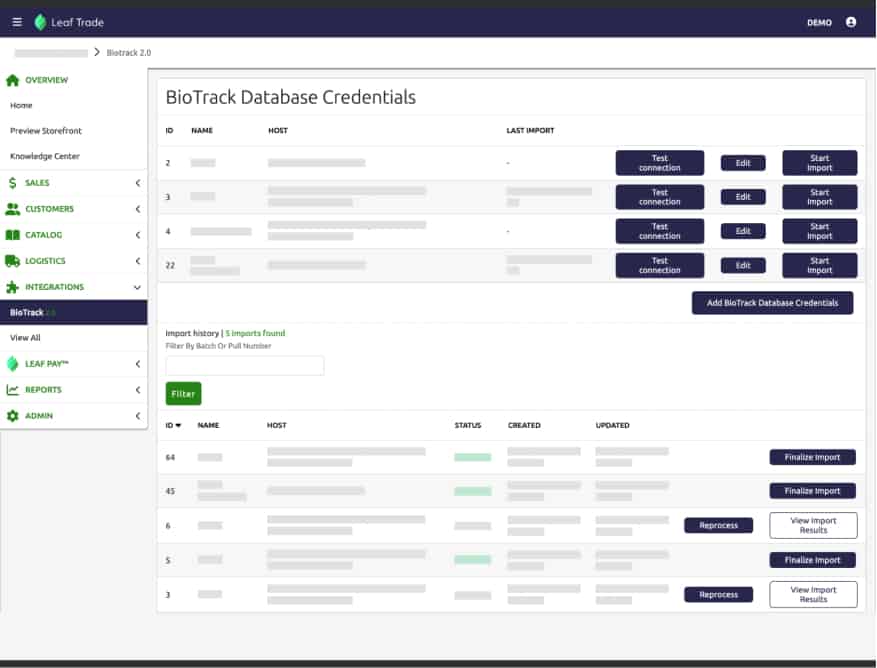 Merchandisable storefront featuring a company logo, description, and branded header image.
Easily add new products and organize existing from the Products page.
Quickly view all your existing orders and order statuses from the Home view.
View specific order details and manage status from the Order Details page.
Import product data directly into Leaf Trade using our integrations with BioTrack, Metrc, LeafLogix, or CSV Import.
Explore the View from the Retailer Side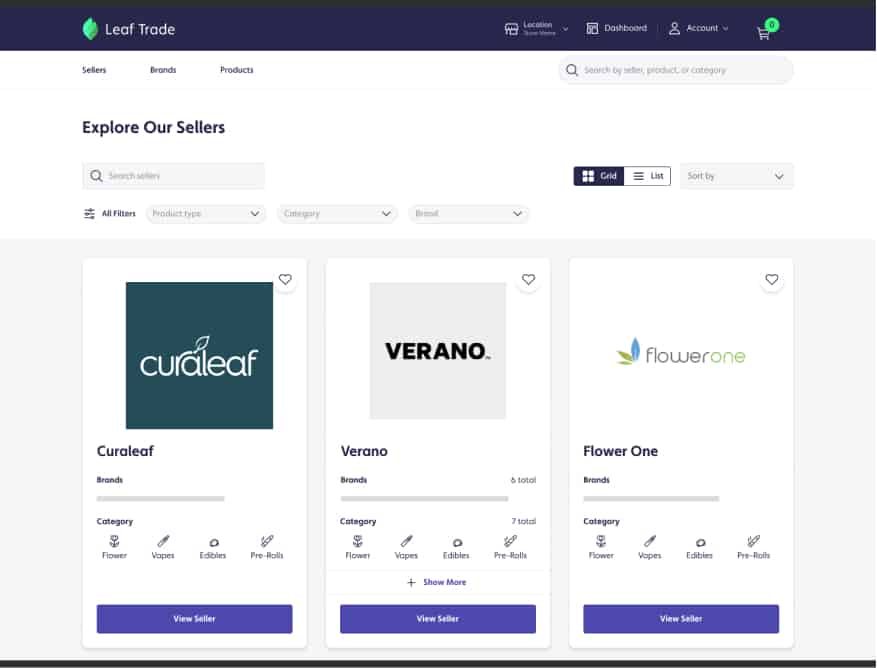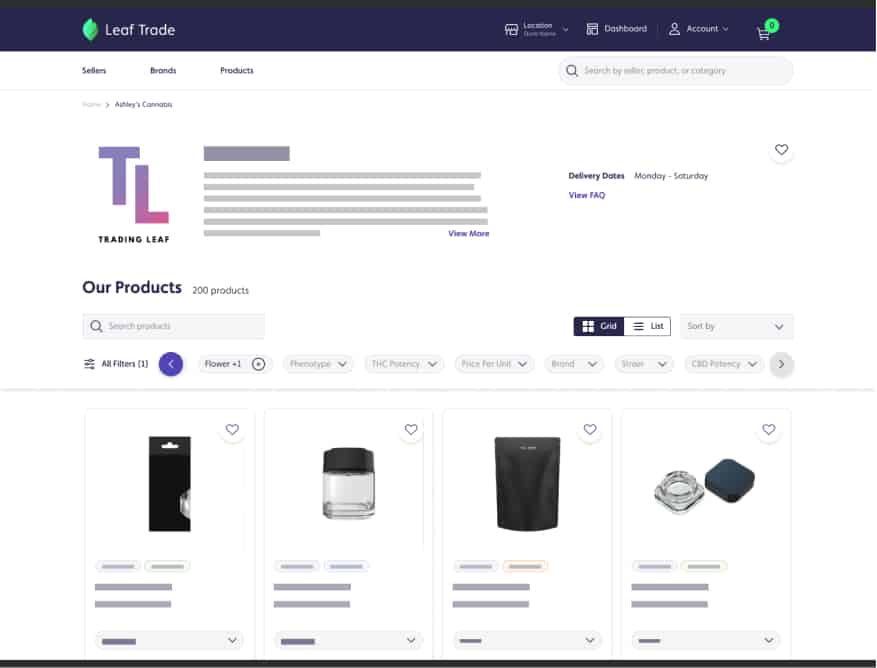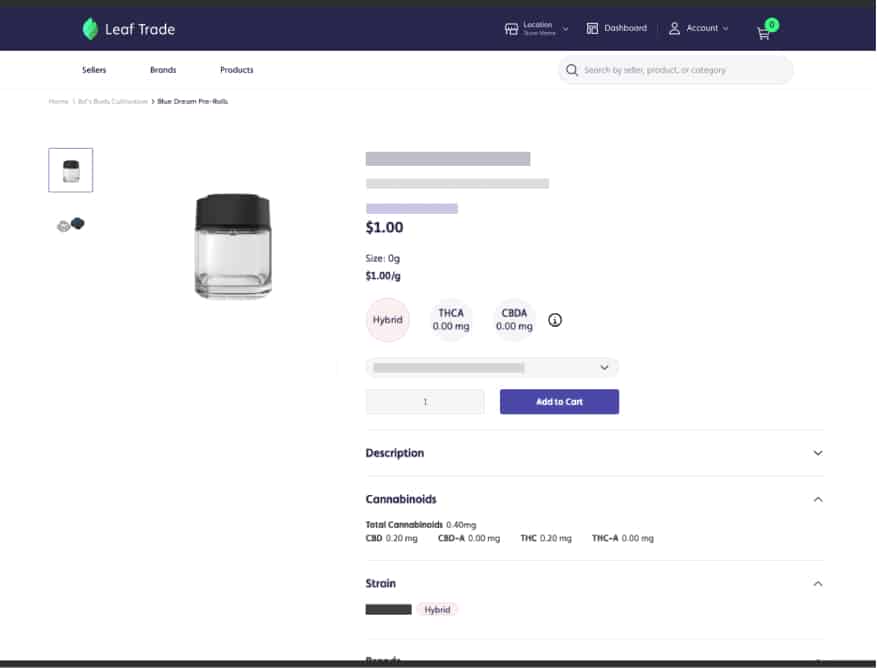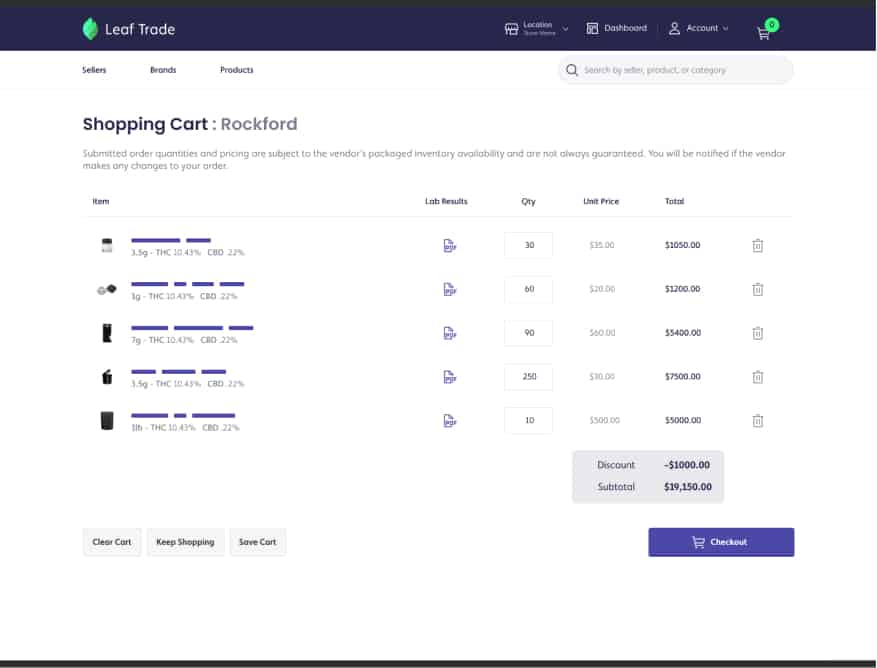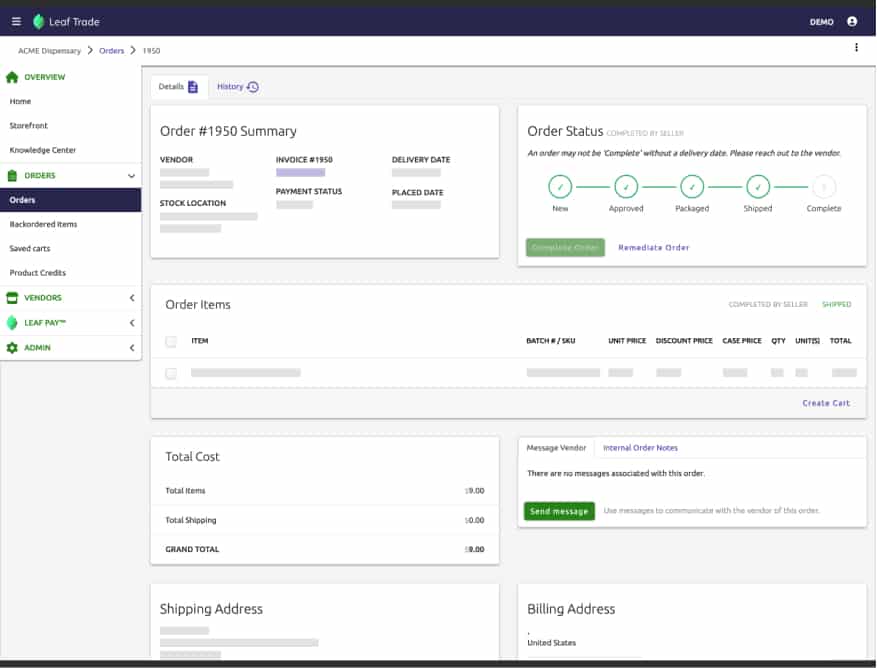 Discover cultivators and distributors selling product in your market from the Seller Explore page.
Browse vendor storefronts to view product details and add items to your cart for purchasing.
Explore specific product details like cannabinoids and product descriptions by clicking into a product page.
View your cart and order details and make order edits as needed before completing checkout.
Use the Orders dashboard to check Order Status and specific details or your purchases.
Browsing the Wholesale Cannabis Marketplace
Search by Brand
Have a specific cultivator or distributor you want to purchase from? Use the search functionality to discover the brands and products you need within our Wholesale Cannabis Marketplace.
Filter by Product Type
Quickly find the products you're looking for or discover new products. Retailers can easily sort, filter, and find the products they want using filters for product type, category, strain, and phenotype.
How Do I Get Started?
Our team is here get you set up and selling successfully. No up-front costs to get started!
Schedule a demo and see how we've made wholesale cannabis eCommerce simple with our easy-to-use platform. Following the demo, our team works with you hand-in-hand on an implementation, ensuring you're supported throughout the entire process.
Let's Go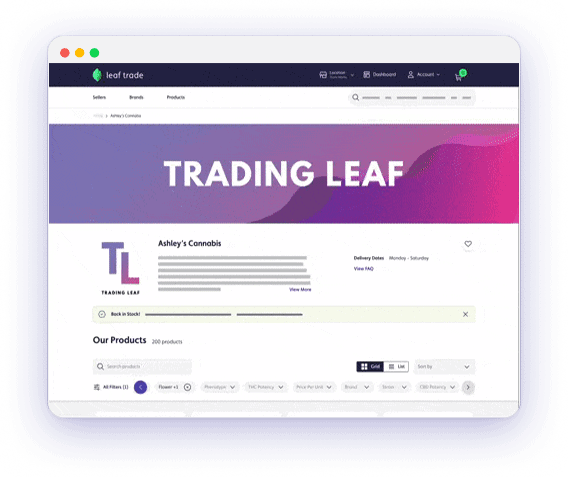 There's a Better Way to Manage Wholesale Cannabis
Are You Ready?
Our purpose is to support you in better managing your cannabis operations as cultivators and retailers. Book a consultation to help us understand your supply chain needs and to understand the improvements we can make to your processes.
Meet Some of Our Trusted Clients