The cannabis industry is quickly becoming one of the fastest-growing sectors in the United States, and with the growing legalization of the plant, the demand for cannabis is increasing. This is creating opportunities for businesses in retail and cannabis wholesale.
Managing cannabis operations can be complex. Implementing systems that streamline wholesale cannabis processes and automate manual tasks can give businesses an advantage. One such way cannabis businesses can do this is through the use of cannabis wholesale marketplaces.
What Is a Cannabis Wholesale Marketplace?
A cannabis wholesale marketplace is an online platform that connects buyers and sellers of cannabis products. It provides a secure and efficient way for buyers and sellers to exchange products and services. A cannabis marketplace can also provide pricing transparency and streamline communications between buyers and sellers.
Leaf Trade's cannabis wholesale marketplace provides wholesalers and dispensaries with an efficient and transparent marketplace where they can complete legal cannabis transactions online.
Leaf Trade even takes it a step further by helping to streamline cannabis operations by providing seed-to-sale and accounting integrations, inventory management and controls, streamlined fulfillment, and business intelligence.
Benefits of the Cannabis Wholesale Marketplace
Streamlined Supply Chain
You worked hard to cultivate your products, following the legal requirements. Your goods have gone through manufacturing and passed all necessary tests. Now, the time has come to connect with dispensaries to sell your wholesale marijuana products. But, how do you get your wholesale marijuana products into their hands?
The process of selling to dispensaries when the cannabis industry first started was easy. There were fewer players on the market, and making connections to buy and sell between cultivators and dispensaries was more direct.
Nowadays, finding a dispensary to sell to can be challenging. Most dispensaries already have relationships with wholesalers and are often overwhelmed with requests from new sellers hoping to make a connection.
Just getting in the door with a potential dispensary buyer requires building relationships in the cannabis industry and finding the right point of contact. Once you find the right person, you have to pitch your inventory over the phone or through email.
Any orders you receive have to be tracked manually in spreadsheets. And if you get word of a stock level change or you find out a product you sold is out of stock, you have to go back to that customer again and start the process over.
The good news? There's an easier path to get started selling in the cannabis industry.
Joining a cannabis wholesale marketplace like Leaf Trade can help you get your brands and products directly in front of qualified dispensary buyers. Leaf Trade even streamlines the order management process, allowing retailers to place orders online and track order progress in real-time. This eliminates the need for time-consuming phone calls or emails and enhances operational efficiency.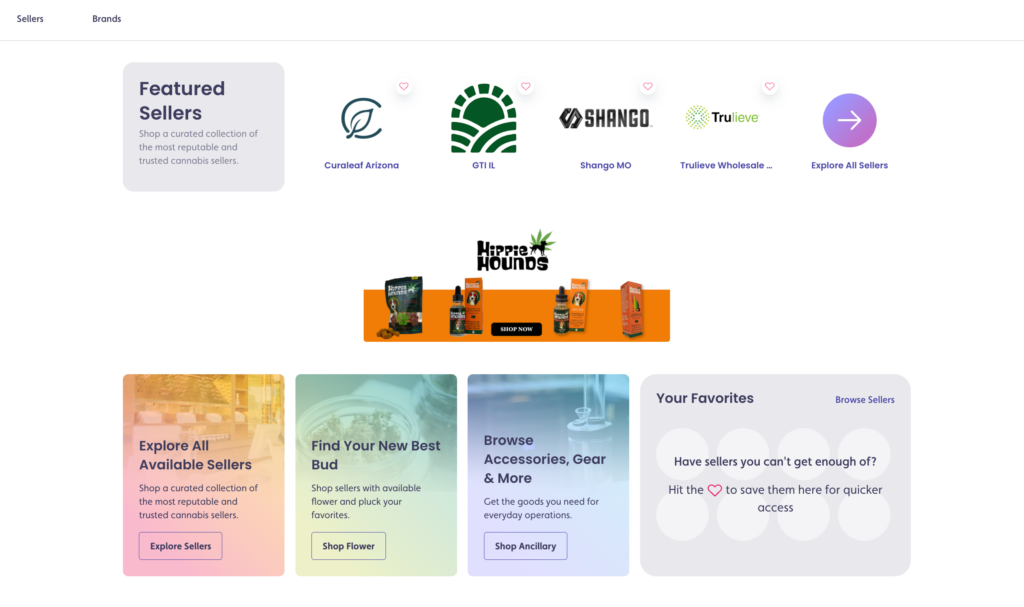 Using a platform like Leaf Trade, wholesalers can manage their inventory effectively, view incoming orders, and track the status of each order in real time. By using a centralized inventory and order management platform, wholesalers can guarantee precise and prompt order fulfillment, leading to an elevated level of customer satisfaction.
Cannabis Compliance and Regulation
The cannabis industry is heavily regulated, and cultivators, producers, and distributors must adhere to strict legal standards to ensure consumer safety and successfully operate. Even the slightest slip-up can have consequences for your business.
To meet compliance standards cannabis products must be tracked throughout the supply chain, and the finished product needs to be traceable to its original plant. Cannabis products must also be rigorously lab tested and approved before being distributed. Additionally, they're strict standards cultivators and producers have to follow regarding quality assurance testing, storage, transportation, and maintenance of accurate financial documentation.
This can be a lot to keep up with if you're manually tracking this data in multiple systems that don't connect or integrate. Manual tracking can lead to increased human error and discrepancies in accounting records.
Leaf Trade is designed to comply with the strict regulations surrounding the cannabis industry. It integrates with your market's seed-to-sale platforms like Metrc and BioTrack for streamlined product tracking. Using Leaf Trade's seed-to-sale tracking integrations, you can easily track product origin from upload to the system to where it was purchased to meet compliance standards. COAs can also be uploaded to the system for dispensary buyers to easily download so the necessary seed-to-sale tracking information is always available.
By seamlessly integrating with leading accounting software like QuickBooks Online and Sage Intacct, Leaf Trade empowers cannabis businesses with the ability to accurately track financial records. This not only streamlines and automates financial processes but also ensures a higher level of precision in maintaining accurate accounting records, ultimately assisting businesses in meeting the compliance standards demanded by the cannabis industry.
Cultivate Strong B2B Cannabis Partnerships
Navigating the landscape of the B2B cannabis industry involves more than just the quality of your products — you need to build meaningful relationships. As a newcomer, you have to introduce your brand and products to dispensaries. Your efforts extend beyond the products themselves; it's about connecting with the right individuals, conveying the value your products bring, and addressing the specific needs of dispensaries.
This involves a mix of phone calls, emails, and even in-person meetings to showcase your products and establish a connection. The challenge lies in identifying the right decision-makers, aligning your products with their requirements, and crafting proposals to emphasize why dispensaries should choose you.
It's an involved process that combines salesmanship, communication skills, and a genuine commitment to providing solutions that cater to the diverse needs of the cannabis market.
B2B cannabis interactions have evolved with technology, and Leaf Trade's platform jumpstarts connecting and nurturing partnerships within the cannabis industry. Using Leaf Trade's dynamic digital platform, the search for meaningful collaborations becomes more targeted and efficient.
Leaf Trade's network empowers you to identify the right partners and establish connections that transcend transactional exchanges. With a focus on mutual growth and amplifying each other's strengths, collaborating within Leaf Trade takes on a strategic dimension that increases your success trajectory.
The platform serves as a conduit for building relationships beyond short-term gains, paving the way for enduring partnerships that flourish amidst the intricate dynamics of the cannabis industry.
Empowering Your Cannabis Business: The Role of a Wholesale Cannabis Platform
Cannabis wholesale marketplaces not only offer streamlined efficiency and cost-effectiveness in sourcing and selling cannabis products but also play a crucial role in safeguarding your business against potential pitfalls.
By fostering an environment where industry regulations and compliance are integral, cannabis wholesale marketplaces naturally prioritize the integrity of transactions. Navigating the cannabis landscape with an understanding of market dynamics and regulations and nurturing connections with dispensary buyers serve as the foundation for sustained success in wholesale cannabis.
By harnessing the potential of a cannabis wholesale marketplace and with the right strategy, you can have a profitable and rewarding business venture. The evolving landscape of the cannabis industry holds an array of opportunities, and cannabis marketplaces stand as a gateway to these opportunities and a fortress to shield your business from uncertainties.
---
Are you a wholesaler who wants to start selling on Leaf Trade? Schedule a demo.
Want to get started buying on Leaf Tade? Create your free retailer account today!