Leaf Trade is committed to developing solutions to the challenges faced by wholesaler and dispensary operators in the cannabis industry. With this in mind, we continually work to improve our platform experience by building new features and products to enable cannabis cultivators and dispensaries to work more efficiently.
Read up on some of the recent product releases and platform enhancements our team completed in April – June 2023.
Cannabis Cultivators & Manufacturer Feature Highlights
Explore some of the recent product releases and feature enhancements the Leaf Trade team rolled out to the cannabis wholesaler experience on the platform.
Leaf Trade Integrations
Leaf Trade offers integrations with the leading cannabis technology platforms. Take a look at some of the recent enhancements we've made to these integrations.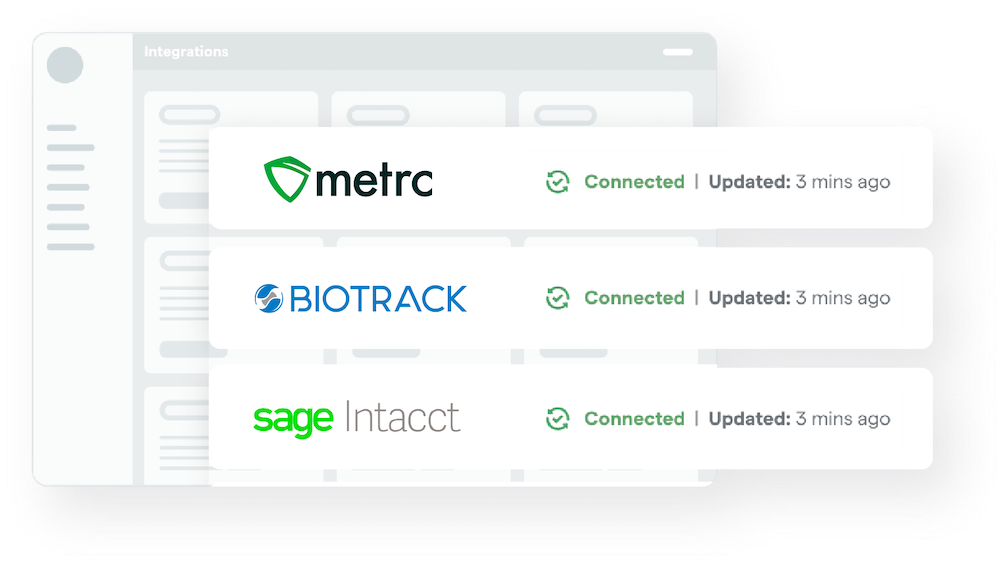 Single Sign-On Capability
Single Sign-On is now available by request. If you're currently a platform user and are interested in getting Single Sign-On setup, reach out to your account rep for assistance.
The Impact:
Improves compliance and security capabilities.
Improves and simplifies sign-on experience.
ERP Integration
The Leaf Trade team has completed its second successful integration with an ERP. This integration enables Leaf Trade accounts to sync directly to an ERP and exchange data behind the scenes between the two platforms. Order information no longer has to be manually keyed into the wholesaler ERP and can instead be automatically pushed by clicking Approve on the Leaf Trade Order.
The Impact:
Reduction in manual workload by eliminating the need for Order entry in two applications.
Quicker order processing thanks to the automated data synchronization powered by the Leaf Trade.
​​CSV Import 2.0
CSV Import 2.0 has been updated to include mapping for Harvest Date, so this information will no longer have to be manually added following import.
The Impact:
Mapping for Harvest Date enabled during import.
No longer need to manually add Harvest Date after import.
A couple of updates were made to CSV Import 2.0 to enhance the user experience. The column header for 'Unique Variant ID' has been updated to 'Pull Number'. Additionally, if a Column Header or a blank column is encountered during the file upload it will now be skipped during this step.
The Impact:
Unique Variant ID heading is now labeled Pull Number.
Cleaner import experience that excludes blank column headers and columns.
Metrc Integration Update
An update has been made to the Metrc integration enabling it to handle ounces as a unit of measurement during imports.
The Impact:
Ounces are now measured as a unit during import.
No longer need to manually add ounces after import.
QuickBooks Integration
The QuickBooks Online integration has been updated so details are shown when an error message appears. This update was made to provide users with additional context into what error occurred and how they can correct it.
The Impact:
Easily identify the error that occurred.
Quicker to resolve the error.
QuickBooks Online Leaf Trade Order Number
If you need to access the Leaf Trade order number in your QuickBooks Online instance but are not using the Advanced version, you can locate the order number within the message of the QuickBooks estimate.
The Impact:
Leaf Trade order number imported without needing the use of custom fields.
Direct access to the information you need in QuickBooks.
Public API endpoints
An API endpoint is a point at which an API connects with the software program. Leaf Trade leverages public API endpoints to connect with external systems such as Dutchie.
Dutchie API Key Table Update
Tabs have been added to the Dutchie API key table to provide a cleaner view of which keys are currently in use.
The Impact:
Easier to navigate the Dutchie API key table.
Quicker view into which keys are currently in use.
Leaf Trade API
Leaf Trade offers a Public API that allows you to link the applications you need to run your cannabis business. By connecting these systems, we can move data from your software solution directly to our platform and vice versa.
Inventory Endpoint
A filter option has been added to the Inventory list on the Leaf Trade API Inventory Endpoint allowing users to return only available Inventory.
The Impact:
The ability to see only available inventory reduces the API call request time.
Cleaner view on the inventory list of available inventory.
Platform
Leaf Trade provides comprehensive wholesale cannabis support. Our platform has built-in features that simplify the listing, selling, and fulfillment process.
Broken Cases Feature Update
We've made updates to our ''broken cases' or 'partial cases' feature. Currently, the feature automatically creates a single unit when inventory drops below a defined case size. Previously, this would only happen upon order completion, but we've implemented a new update to trigger this action when inventory is allocated instead.
The Impact:
Streamlines process.
Improves efficiency.
New Columns Added to Batch Index Page
New data columns have been added on the Batch Index page as optional values using the column selector module. Additional sorting functionality was also added for non-lab data columns. The new additions include Creation Date, Expiration Date, Harvest Date, Manufacture Date, Total Cannabinoids, Total Active Cannabinoids, CBD, Total THC, △9-THC, and THC-A.
The Impact:
Additional sorting options to easily locate the items you're looking for.
Ability to further customize the Batch Index page to your view.
Additional Columns on Inventory and Pricing Pages.
Additional columns have been added to the Inventory and Pricing pages. The new additions include THC, Total THC, THCA, Total Cannabinoids, Harvest Date, and Creation Date. Please note these columns will not display by default, you will need to open the gear selector icon to add these to your view.
The Impact:
Additional columns were added to easily locate the information you need.
Ability to further customize the Batch Index page to your view.
Customer Management
On the wholesaler Customer Management Overview tab, we have added the ability to filter customer locations by status. If a dispensary location is no longer active, they are updated to an archived state but still accessible.
The Impact:
Easily filter customers based on location status.
Wholesaler Performance Improvements
The ability to filter on stock availability and the variant state has been added to the batch details page to improve performance. Additionally, the default loading was updated to include only sellable inventory.
Variant Templates can now be sorted alphabetically or by creation time. This update improves load time and usability for users with a large number of templates.
Dispensary Feature Highlights
Explore some of the recent product releases and feature enhancements the Leaf Trade team rolled out to the cannabis buyer experience on the platform.
Quick Order & Multi-Location Shopping Cart
Our new Quick Order and Multi-Location Shopping Cart is now available for buyers to take advantage of. These features make it simple and easy for buyers with multiple locations to build carts and check out for each location simultaneously. It also gives the buyer more control to edit carts, see the total price, and download lab results in one easy experience.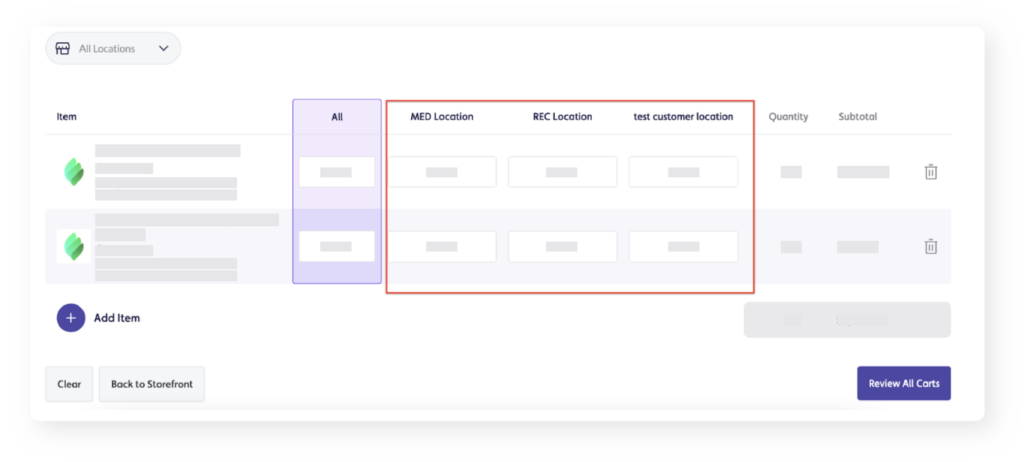 The Impact:
Build carts for all your retail locations at one time
Reduce errors and speed up the order creation process
View all shopping carts at once without having to toggle through your accounts
Easily make order edits, download lab results, and see the total order price
---
Are you a wholesaler who wants to start selling on Leaf Trade? Schedule a demo.
Want to get started buying on Leaf Tade? Create your free retailer account today!