Leaf Trade is committed to developing solutions to the challenges wholesalers and dispensaries face in the cannabis industry. With this in mind, we continually work to improve our platform experience by building new features and products to enable cannabis cultivators and dispensaries to work more efficiently.
Read up on some of the recent product releases and platform enhancements our team completed in January – March 2023.
Cannabis Cultivators & Manufacturer Feature Highlights
Explore some of the recent product releases and feature enhancements the Leaf Trade team rolled out to the cannabis wholesaler experience on the platform.
Leaf Trade Integrations
Leaf Trade offers integrations with the leading cannabis technology platforms. Take a look at some of the recent enhancements we've made to these integrations.
Sage Intacct Integration
We made an update to our Sage Intacct integration so users now can auto-attach a Leaf Trade invoice to a Sage Accounts Receivable (AR) invoice record.
The Impact:
Save time by further automating the Sage Intacct accounting process.
More accurate invoice tracking.
Metrc Integration Import Update
Our Metrc integration was updated so it now filters out packages that have negative inventory during imports.
The Impact:
Any package with a <0 inventory value will be ignored and skipped during import.
Packages with <0 will no longer be stuck in the submitted state.
Wholesale Cannabis Storefront
Leaf Trade provides cannabis cultivators and manufacturers with a customizable, branded storefront to sell their brands and products to qualified dispensary buyers in their market. Let's take a look at some of the recent enhancements made to our Storefront.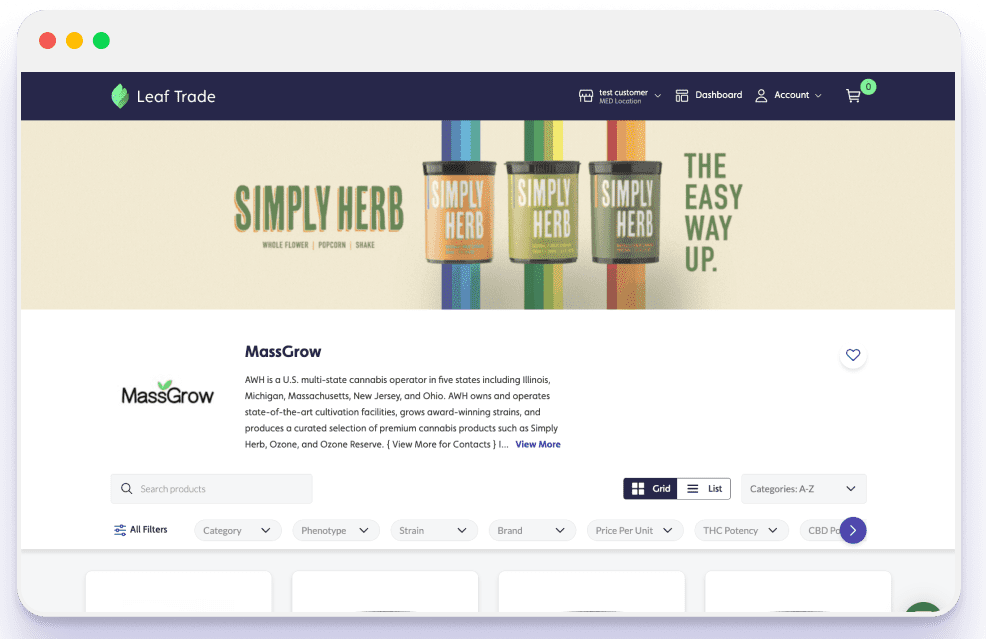 Warning Banner for Products Not Shown on the Storefront
We've added a warning banner to help our users easily identify which products aren't shown on their Storefront. Now, when previewing a Product Details Page if the product isn't visible on the Storefront a yellow warning banner appears at the top of the page that says, "Warning! This product will not show on the storefront."
The Impact:
Clearer visibility into which products will not display on your storefront.
An easier way to recognize which products are not displaying and may need to be updated.
Platform
Leaf Trade provides comprehensive wholesale cannabis support. Our platform has built-in features that simplify the listing, selling, and fulfillment process.
CSV Export from Orders Page
Leaf Trade offers the ability to export CSV files from your Orders Page. To make this experience even better we enhanced it so when files are exported from this page they will match the Filters you have set at the time of export. This means when a CSV file is exported whatever filters are set at the time of export will display in your file.
The Impact:
Exported CSV results will always match the results of the filters you have set on the Orders Page.
Ability to export CSV files to include the results you want to see.
Admin Permission Settings: Bypass Minimum Orders
Leaf Trade offers User Permissions and Notification settings to help your team work more efficiently. These settings can be configured by role to provide your team members with access to the areas they need on the platform and notify them directly of tasks related to their responsibilities.
Recently we added a permission setting that allows sellers to permit specific users to bypass the set order minimum. Sellers can designate which users on their account have this permission so they can create orders without having to hit the mandated order minimum.
The Impact:
Ability to designate only certain users who can bypass the minimum orders.
Allows users to create orders without having to hit the order minimum.
Update to Product Quantity Allocation
To create a cleaner and simplified user experience, we updated our Quantity Allocation page to have a more clearly labeled Unit Price field where users enter their desired pricing. You will then add the desired quantity you'd like to allocate and the case price will be automatically calculated for you.
The Impact:
You no longer have to enter and manage prices, case sizes, and units.
The case price is automatically calculated by updating Unit Price.
CSV Import 2.0 Now Maps Total THC
In addition to seed-to-sale integrations Leaf Trade also provides the option to use a CSV Import to import and sync your inventory with our platform.
To improve this experience we added Total THC as an available column when uploading a CSV file. This information no longer has to be manually updated on the Batch Details page. With this update, all labs can now be mapped using our CSV Import 2.0.
The Impact:
THC no longer has to be manually updated on the Batch Details page.
Quickly and easily import the product details you need.
New Analytics Platform Added in Dashboard
To make it easier than ever to access the data you need to operate your business efficiently, we add an Analytics Portal directly within our platform.
The Impact:
Easy access to reporting for Advanced Analytics users within the Leaf Trade Platform.
Expiration Date Now Available on Invoices
We made an update to allow sellers to toggle expiration dates on or off their invoices. If sellers would like to include this information on their invoices all they need to do is update the toggle setting in their Account Settings.
The Impact:
Ability to add expiration date on invoices.
Inventory Imports Now Alphabetical
You can now sort Inventory Imports alphabetically on Review/Submit pages.
The Impact:
Inventory Imports are organized alphabetically.
Cleaner view of our Inventory Imports.
Product Credit Pricing
Product Credit Pricing has been updated to auto-populate based on the serial number to the dollar amount each dispensary paid at the time of purchase.
The Impact:
Product Credit pricing now auto-populates
You no longer need to edit or manually add Product Credit Pricing
New Default Column Selectors
A default column selector has been added to the Inventory/Pricing page, Vendor Products page, Product Credits page, Customer Management page, Asset Sharing page, and the Leaf Pay payments dashboard.
The Impact:
Apply the filters to display the data that matters most to your business.
Ability to remove irrelevant data on your dashboard views.
Leaf Trade API
Leaf Trade offers a Public API that allows you to link the applications you need to run your cannabis business. By connecting these systems, we can move data from your software solution directly to our platform and vice versa.
Shipping Total & Credit Memos Exposed
We made updates to the Leaf Trade API to expose the shipping total and credit memos in the Orders API response.
The Impact:
Additional Order details are now available for you to pull programmatically.
Build enhanced reporting and track important details.
Orders Endpoint: Ability to Pull Associated Sales Rep
To make it quicker to pull the information you need on Sales Rep performance we updated our Orders Endpoint to pull Sales Rep data through Leaf Trade's API. Previously, this information had to be viewed via an in-platform report.
The Impact:
Easier and quicker to pull the information you need on your Sales Reps' performance.
No longer have to run a report on the platform to pull Sales Rep data.
API Update to Add Strains
We updated our external API to allow sellers to add strains to a specific seller account.
The Impact:
Easily add strains to a specific seller account.
Automate the process of adding new strains to an account.
Dutchie API Requests
The Dutchie API has been updated so API requests use the base URL of https://api.pos.dutchie.com/ instead of https://publicapi.leaflogix.net/.
Please note we have recently rebranded our LeafLogix integration to align with the naming transition to Dutchie.
Dispensary Feature Highlights
Explore some of the recent product releases and feature enhancements the Leaf Trade team rolled out to the cannabis buyer experience on the platform.
Wholesale Cannabis Marketplace
Leaf Trade provides cannabis dispensaries with an easy way to place wholesale cannabis orders online through a marketplace experience. Dispensaries can easily discover new brands and products and place orders for the products they need.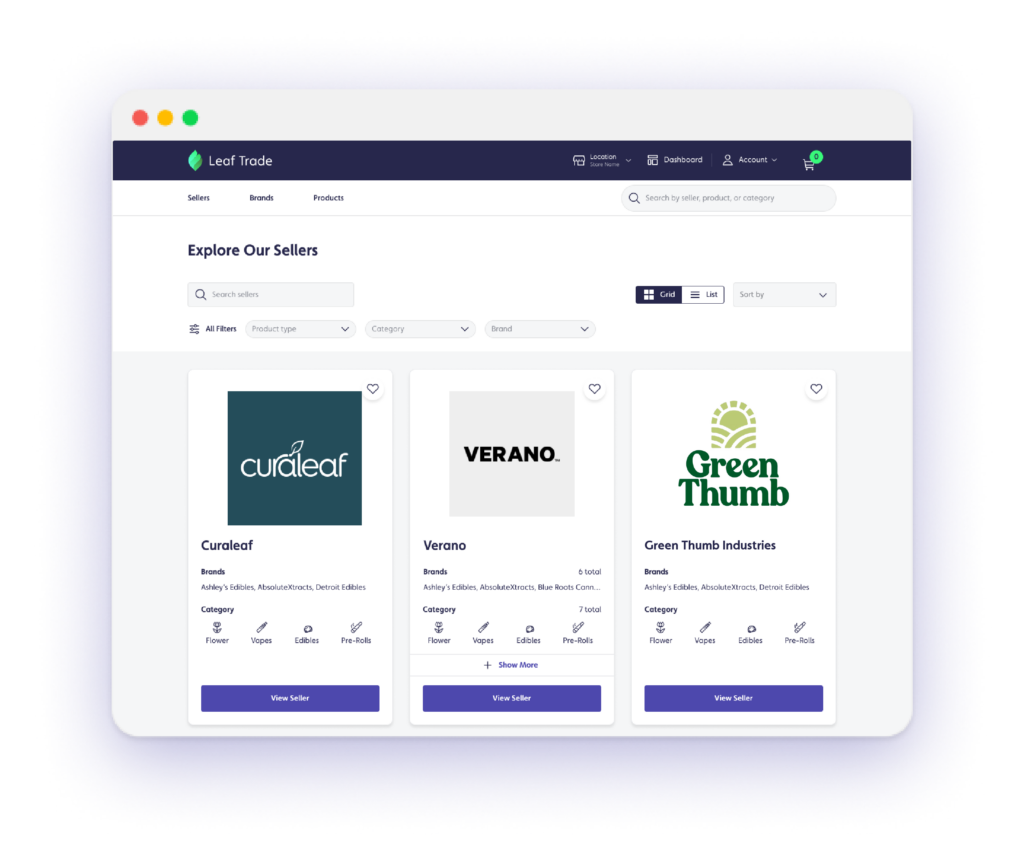 Quick Order & Multi-Location Shopping Cart
Our Quick Order and Multi-Location Shopping Cart features have been rolled out to several states with more on the horizon. These features make it simple and easy for retailers with multiple locations to build carts and check out for multiple locations simultaneously. It also gives the buyer more abilities to edit carts, see the total price, and download lab results in one easy experience.
The Impact:
Build carts for all your retail locations at one time.
Reduce errors and speed up the order creation process.
View all shopping carts at once without having to toggle through your accounts.
Easily make order edits, download lab results, and see the total order price.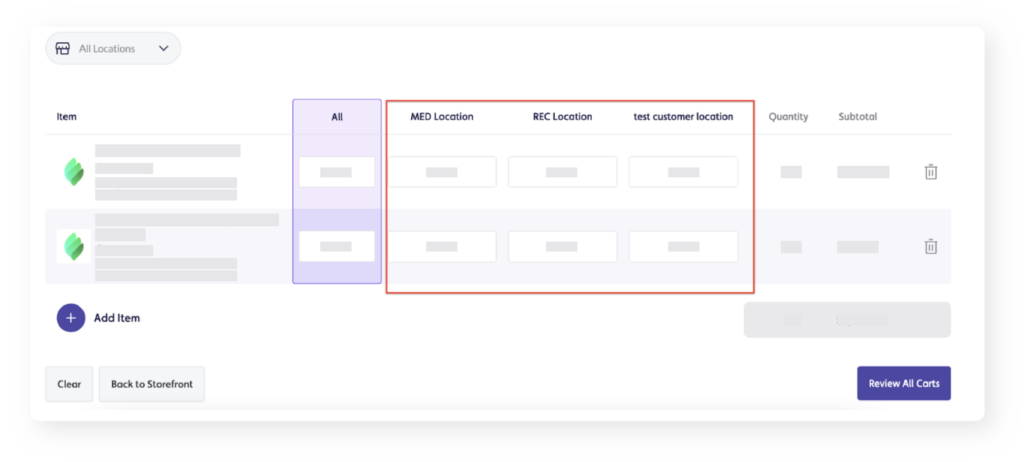 Update On Duplicate Brand Listings
We made an update to the buyer experience regarding Sellers listing the same brand. Duplicates of the same brand will now be collapsed and the buyer will be redirected to a filtered Discovery Page if multiple vendors are selling the same brand.
The Impact:
Better user experience, and fewer clicks to locate the desired storefront.
Cleaner view for the buyer making it easier to find their selection.
Wholesale Cannabis Platform
Leaf Trade provides comprehensive support for cannabis dispensary's wholesale purchasing needs. Our platform has built-in features that simplify discovering products, ordering, and fulfillment processes.
License Numbers
In some cannabis markets such as Pennslyvania, dispensary groups share the same license number within their county. Previously, when trying to create multiple dispensary locations on Leaf Trade with the same account number you'd be thrown an error message that said the license number already existed. Now, we've updated the system to allow dispensary groups using the same license number to create as many accounts as they need.
The Impact:
Ability to create locations for each dispensary location you operate when they're leveraging the same license number.
---
Are you a wholesaler who wants to start selling on Leaf Trade? Schedule a demo.
Want to get started buying on Leaf Tade? Create your free retailer account today!