Leaf Trade is constantly striving to develop solutions to the problems faced by wholesalers and retailers in the cannabis industry. We continually improve upon our platform experience building new features and products to enable our users to work more efficiently.
Talking with our multiple-location retail users on the platform and in the industry, we knew there had to be a better way to enable them to create multiple-location orders leveraging our cannabis wholesale marketplace. With this in mind, we developed our latest features, Quick Order and Multi-Location Shopping Cart.
Quick Order and Multi-Location Shopping Cart make it easier and faster than ever to create multiple-location dispensary orders. These features provide you with a holistic view of every order you're creating before completing checkout so you can be confident in the orders you're building and reduce order errors.
Let's dive a bit more into how these features work.
How Does Quick Order Work?
Quick Order is a feature where retailers purchasing for more than one of their dispensary locations can create carts for each location at the same time vs. building individual carts. The Quick Order page leverages a grid view, which is similar to the view managing orders in Excel. This lets you easily see order quantities across all your locations simultaneously.
The cool thing about Quick Order is you can choose to edit your carts in one of two ways. You can use the All column which will distribute the same quantity across each location or you can individually edit the quantity under each location to select your desired amount.
Don't want to order for a specific location at that time? Just uncheck it from the selection box highlighted in red.

Save time when creating multiple cannabis dispensary orders. We built Quick Order to enable multiple location dispensary operators to create orders quickly and reduce mistakes.
How Does Multi-Location Shopping Cart Work?
The Multi-Location Shopping Cart lets you view each cart that has order items placed in the cart. From the Multi-Location Shopping Cart page, you can toggle through all your carts, edit product quantities, view your total order price, and download lab results. This feature provides an easier way to view all your carts and confirm the order details are correct before completing checkout.
We designed our Multi-Location Shopping Cart to help reduce order errors and provide an easier way to complete checkout for multiple locations. With Multi-Location Shopping Cart you can review every active cart before checking out, and confirm you've selected the right products and quantities before completing purchase.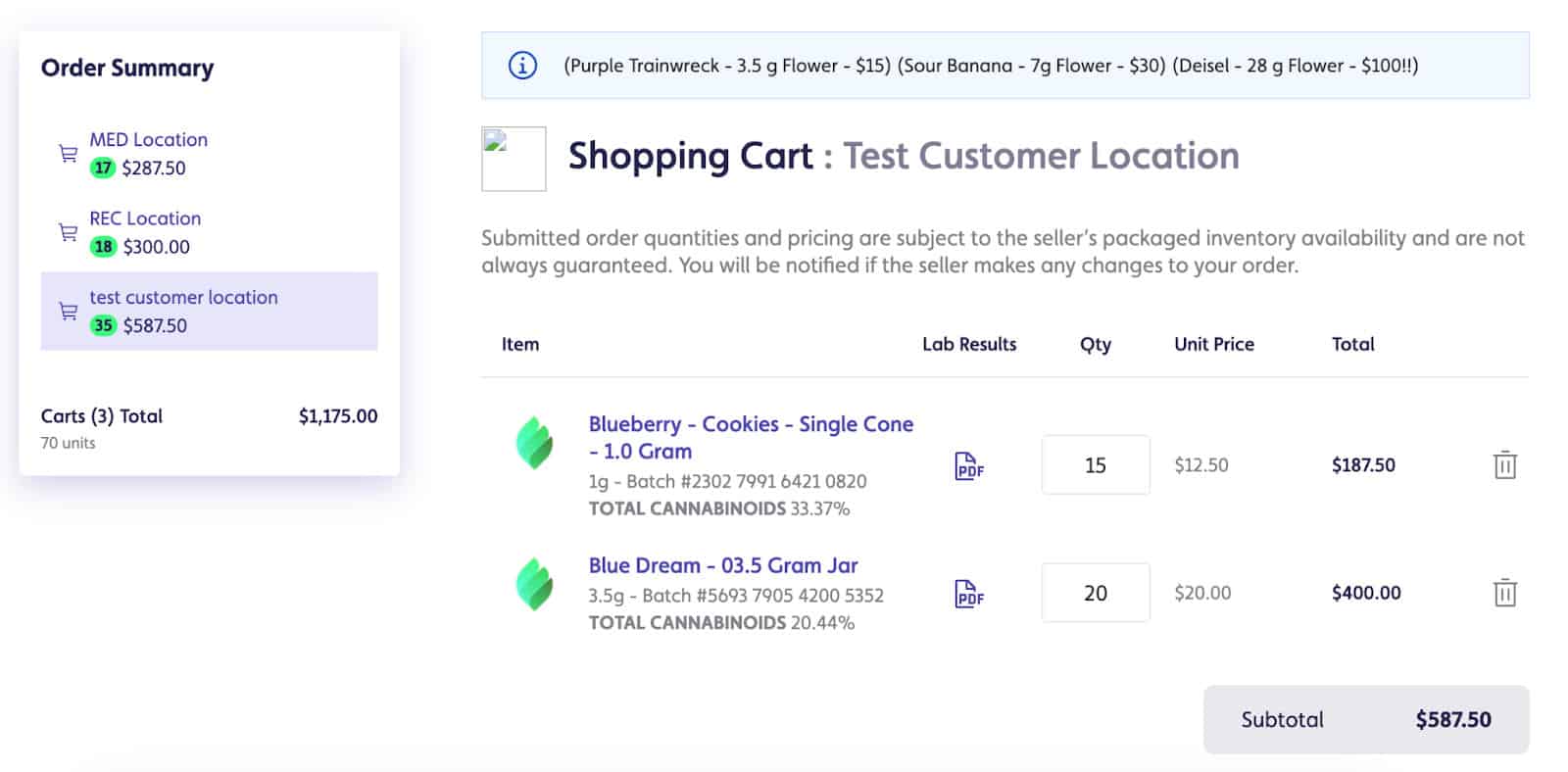 A Better Ordering Experience for Multiple Location Dispensaries
If you manage multiple dispensaries you shouldn't have to spend hours creating and managing orders for each location. Leaf Trade aims to find solutions to problems like these so you can be more efficient. Quick Order and Multi-Location Shopping Cart are two features that will make it easier and faster than ever to manage your multiple-location orders all while reducing order errors.
---
Want to get started buying on Leaf Tade? Create your free retailer account today!
Already have an account and want to check out the awesome Quick Order and Multi-Location Shopping Cart? Sign in and create an order.
Have you had a chance to use our Quick Order and Multi-Location Shopping Cart features? We'd love to hear from you! Contact us at support@leaftrade.com to share your feedback!