Leaf Trade is excited to announce the release of Storefront 2.0.
This new Storefront gives buyers an improved shopping experience by sorting products through improved filtering capabilities including strain, brand, and cannabinoids. Buyers can now choose to shop for products via a grid view with images and descriptions or a list view, similar to Storefront 1.0.
Storefront 2.0 delivers a more visual experience. Vendors can now brand their storefronts with images and add photos and GIFs to their products. Leaf Tread has also rolled out a new Seller Discovery page in Storefront 2.0. This grants buyers the ability to browse all wholesale cannabis vendors in their state and to sort and filter by product type, category, or brand.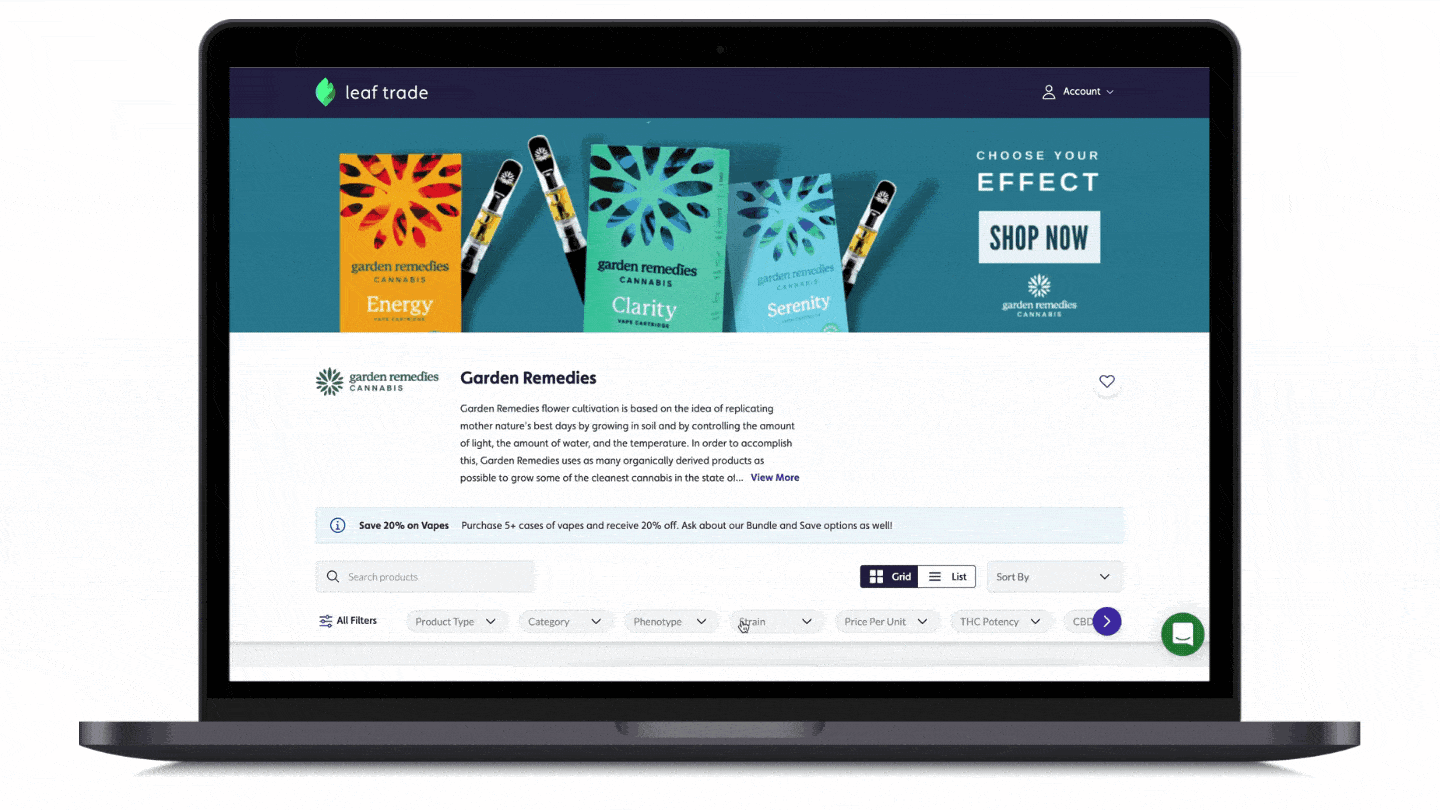 Let's dive into each of these updates in a bit more detail.
Vendor Storefront: Filter by Product Type, Category, Phenotype, and More
Within the Storefront, buyers can now easily sort, filter, and find the products they want by using new filters added to Storefront 2.0. Products can be filtered based on information provided by the seller such as product type, category, strain, and phenotype.
The filters in Storefront 2.0 are meant to resemble a more traditional e-shopping experience, making it easy for buyers to find the products they need.
A More Visual Storefront
Storefront 2.0 is introducing more visual Storefronts. Buyers can choose to shop for products in a list view, similar to Storefront 1.0, or in a grid view that contains images and descriptions of the product.
Storefronts now have the ability to display visual elements such as logos, hero images, banner titles, and vendor descriptions. This allows sellers to create unique Storefronts to provide a tailored shopping experience for buyers.
The new visual elements also allow sellers to easily communicate new deals, sales, and promotions happening on the Storefront, keeping buyers constantly in the loop. The visual elements can be updated weekly, monthly, or annually so information stays relevant.

Products listed on Storefronts are also displayed more visually through the new product display feature. Each product listed on the Storefront has a picture included, so buyers know what the product looks like before buying. The product detail page can also include other important information such as labs, effects, medical conditions, terpenes, and flavors.

Seller Discovery Page
The Seller Discovery is brand new with Storefront 2.0 and creates an easy way to discover cannabis wholesale vendors. From the Seller Discovery page, you can filter by product type, category, or brand to find vendors that stock the products you're looking for.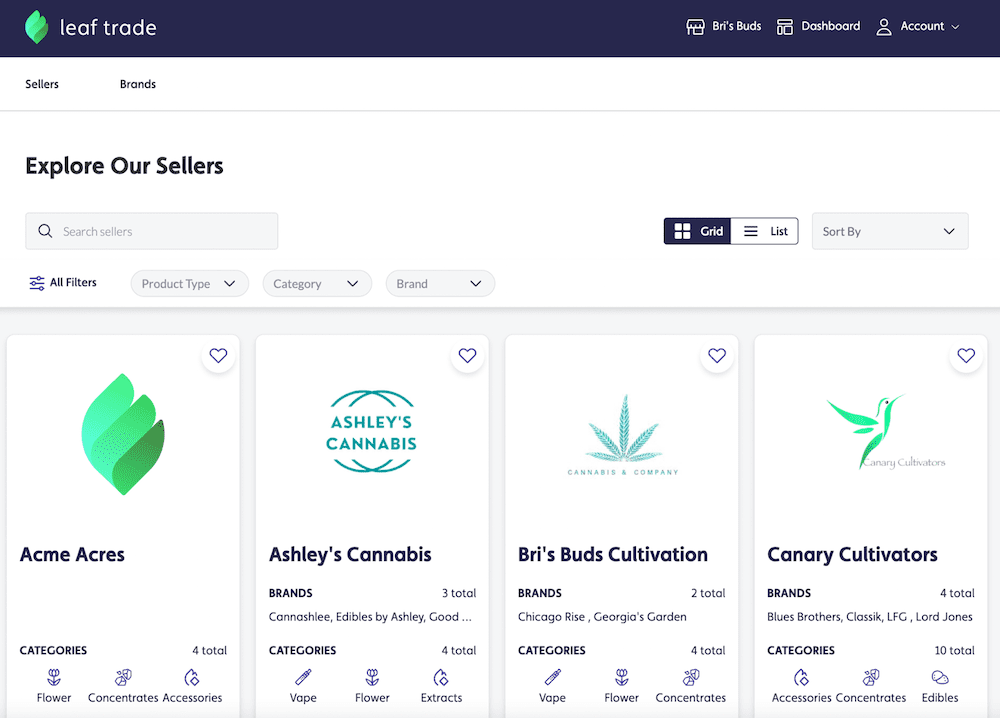 Improving the Leaf Trade Experience
Storefront 2.0 has a lot of great new additions and updates that will greatly improve both the vendor and buyer experience.
As you get familiar with the Storefront 2.0 upgrades, feel free to reach out with any questions, suggestions, or feedback at support@leaftrade.com.